You know what it feels like, you find the perfect shaped lamp at your favorite consignment store but it's the wrong color. What to do? Paint it .. of course.
I needed a lamp for my front porch and saw this one and loved it's shape, not it's color.
It didn't have a shade on it, so I purchased this burlap shade from World Market. I needed the lamp to be black so I painted the green parts black and left the tan/gold parts as they were. I then taped off the top and bottom of shade and painted two black stripes on the lamp. I used Valspar interior/exterior black satan.
I think it looks nice next to the black and white print on the porch chair.
I'm Joining: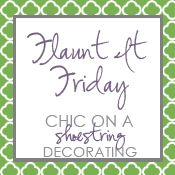 Wow Us Wednesdays ; Mosaic Monday at Little Red House;