Spring cleaning or rather Spring cleaning-out. If you are like me you are ready to lighten the load in the Spring, open things up, air out and start anew. When we do this we always have things we no longer want to keep and usually end up with a stack of things to give away. This year, since my mom and sisters do the same with lots of their own stuff, I thought it would be fun to do a home accessory exchange.
I asked my mom to host this party at her home and my sisters, mom, and myself would all bring several things we no longer wanted to keep and exchange them with each other. It's fun and kind of like shopping for something new to bring home, only it doesn't cost us anything.
Having a good meal together, laughter and exchanging stuff is always a good time. Isn't mom's table pretty? Her everyday dishes are MACINTOSH from Pier 1. I love the rich colors in the fruit and her blue glasses are so dainty.
I love this sweet little jam dish she has had for years. I wish this were on the "exchange table." The centerpiece was her pretty vase with butterflies and four small arrangements of Lilac flowers and Chinese Fringe bush flowers. I love the star shaped flowers against the beautiful round clusters on the Lilac. Also used on the table were grapes that fit in very nicely with the fruit on the plates.
Mom has a beautiful deck overlooking acres of woods. I always enjoy sitting out there listening to the birds sing and hoping to see wild turkey or deer.
Chicken Divan with fresh fruit on the side and sweet iced tea is the menu. Here's our recipe for the Chicken Divan:
Sauce:
2 Cans of Cream of Chicken soup
1 Cup Mayonnaise
8 oz sour cream
1 Cup cheese
1 Tbsp lemon juice
1 tsp curry
Mix all of the above in a small bowl
Cook a head of broccoli and approximately 4-6 cups chicken
Put this in a baking dish.
Sprinkle with 1/2 c Parmesan cheese, salt & pepper.
Next pour sauce over. This will be thick.
Bake 350 degrees for 30-40 minutes.
It is delicious.
I hope you will have an exchange for yourself. It's so much fun and another excuse to get together with family or friends.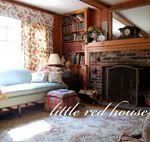 I'm linking to: